Thinking Beyond The Drill On Environmentally Sensitive Bores.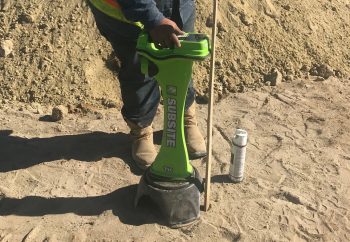 Working in harmony with nature means your crew and equipment must work in harmony as well. Little mishaps or miscalculations can cause big problems, especially on difficult jobs. That's why Kinetic Underground gets the call on tough projects—they go the extra mile to do the job right: no shortcuts on procedures and no skimping on equipment.
"We get chosen because of our past performance, our equipment, our standard operating procedures, our paperwork, and our general knowledge of what we're getting into," said Alan Castillo, General Manager of Kinetic Underground. "We put together a plan that includes the right people and the right equipment—not just the drill."
One recent example was an extremely environmentally sensitive bore under a river, 30 miles outside of Steamboat Springs, Colorado near the town of Walden.
"The last crew in that area took five or six attempts to get under the same river," said Castillo," so we knew it was going to be a challenge."
"A challenge" is an understatement. The project required 40,000 pounds of pullback on an 817-foot pipe bore with 24-inch steel pipe, through 535 feet of solid rock, at an elevation of nearly 9,000 feet. The crew faced sub-zero temperatures and about eight inches of fresh snow on the ground. There were power lines on one side and fiber optic lines on the other. And if that's not enough, the jobsite was in a wetland area where releases simply weren't acceptable.
"We had to set everything up outside of this wetland per the permit," said Ed Buford, Superintendent Driller for Kinetic Underground, "so I had to drill 282 feet of dead rod before even getting to the entry point. And because of a highway and fencing, I couldn't set up in a straight line with the bore, so there was a curve in there as well."
With all the challenges the Kinetic team faced, they knew the hole had to be perfect. There couldn't be any twists and turns. It had to be perfectly straight, perfectly reamed and wide open. Skill on the drill was paramount, and Kinetic has that in Ed Buford. But just as crucial was the performance of the HDD guidance system.
"We had one shot to get it right. You can't drill under that river more than once or you risk a release, which you just can't have on a high-profile project that is this sensitive," said Castillo. "And while everybody focuses on the drill … without accurate guidance, it doesn't matter."
Kinetic trusts the TK RECON™ HDD Guidance System from Subsite® Electronics. Buford, who has used other guidance systems, prefers the TK RECON because of its accuracy, its incredible depth range of up to 110 feet deep, its extended number of frequencies to handle high-interference areas like this one, and the three power settings it offers for the beacon; Regular, High Power and Extreme.
"This job had massive amounts of interference, with power lines overhead and fiber optics in the ground," Buford said. "Plus, sometimes rock has iron deposits and other things that can cause interference. I used the TK RECON's Extreme Power setting so I wouldn't have any issues. It's been a real savior for me on other jobs."
Other key benefits he points out are the system's ease of use and the incredible support he gets from Ditch Witch® of the Rockies and his sales rep, Dusty Cinnamon.
"The thing I like about the TK RECON is that it's user friendly," he said. "It's easy for me to show somebody else how to use it, and how to maintain their tracking and keep everything in line. And if there's ever an issue, one call to Subsite or the dealership takes care of it."
Castillo agrees. The dealer support he gets is unrivaled. And for a company like Kinetic, who puts a premium on training their crews up on all parts of the job, the TK RECON's intuitive design is a game-changer.
"For Ed to be able to take a guy with no experience and within a half hour show him how it works, and then that guy can take the system and run with it … that's an incredible benefit for the whole team. That's truly why Ed and his crew love that machine. They're not afraid of it. It's not intimidating at all. You can pretty much take a person that's never done this, and within a couple weeks' time, with their buy-in, you can make them one heck of a tracker."
"Of course, the mobile communication capabilities are tremendous as well," Castillo added. "With TSR Mobile software, as soon as you've completed the bore you can send the as-built from your phone, right from the drill seat. We've had bores approved on site in 20 minutes."
For the Walden project, Kinetic's TK RECON sent its data to an integrated monitor on their Ditch Witch JT40. Buford had all the vital guidance information at his fingertips so he could make adjustments in real time. Despite the harsh conditions, extreme challenges, and high pressure of this particular job, Ed and his crew finished the bore in just seven working days, well ahead of schedule.
Castillo feels that Kinetic Underground will continue to get calls for the tough jobs. He knows their talent is a big part of their success. But he also believes their focus on doing things right, with the right equipment, helps them deliver on even the toughest, most environmentally sensitive projects.
"When you invest in exceptional people and you give them exceptional equipment to work with—like the TK RECON HDD Guidance System—you're going to deliver exceptional results to your customers. No matter how complex the job."
To learn more about Kinetic Underground, visit kineticindustry.com. For more information on the TK RECON HDD Guidance System, visit subsite.com or visit your local Ditch Witch dealer.