Making The Grade: Tracking On-Grade Bores.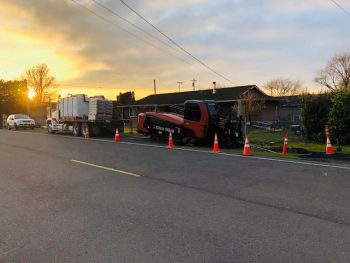 Two 300-foot bores, 17 feet down, through 44,000 psi of basalt. All at a .75 percent grade. It's just another day's work for Logan Kallwick and his crews.
"That job was a tough one," said Kallwick, field supervisor for Downing Diversified in Kalama, Washington. "But those are the kind of jobs we're known for. We have a reputation in the Portland area for going after grade bores and doing them right."
Using a Ditch Witch® JT40, Kallwick's team installed 600 feet of 14-inch HDP pipe in the tough basalt terrain of St. Helen's, Oregon. They maintained less than two feet of fall in each of the two 300-foot bores. That kind of precision drilling doesn't just happen—it's earned.
"You have to be thorough," Kallwick said. "It's not a typical bore where you're just shooting from point A to point B. You'll usually see guys go six, eight, 10 feet at a time between checks and locates. But when we were piloting that bore, I was checking every two to three inches to make sure we were sitting on grade and making corrections every bit of the way."
Of course, that kind of intensity takes time. That's why grade bores typically take longer than usual. The key, Kallwick says, is to make sure that extra time is spent moving forward, not idle.
For example, the company utilizes walkover tracking rather than relying on both a front and a back locate, which could translate into two or three time-consuming locates per check. In walkover mode, the Subsite® Electronics TK RECON™ system they use provides immediate locates directly over the head, instantly feeding that information to a Subsite display on the drill. Rather than waiting for a locator to take readings 30 feet in front of the head or 20 feet behind it to get direction and depth data, the drill operator gets accurate information quickly, right at the drill seat, so he can make adjustments and keep making forward progress.
"We've tried other systems, but Subsite is the locator we rely on," said Kallwick. "We're doing these bores where we've got to have three quarters of an inch precision with just .75 percent deviation … and we're 17 feet deep in some of the hardest material you can find … and we're still able to track the head quickly and accurately and complete these jobs successfully. I have immediate information at my fingertips so I can sit on the drill and interpret depths and percentages constantly as we're moving. I can continue to progress forward instead of waiting around for that information to relay and then having to take my time to move forward. Without it, you could take three or four times longer to do something like this."
Kallwick also pointed out a time-saving benefit when it comes to vibration.
"We started shooting one of these grade bores—a 1.2 percent—using a different locating system. But with all the vibration, our pitches were jumping from a plus seven percent down to a minus four percent. We would have to stop to get a reading in the middle. But the TK RECON system seems to buffer the percentages and give us a consistent reading as we move along. It'll Page 2 of 2 go up and down a little bit, but that's what the head is actually doing so we'll make adjustments. It saves a ton of time."
Combined with maximum productivity from a fleet of Ditch Witch directional drills and the skillful expertise that comes from decades of experience, the company's reliance on accurate walkover locating and seamless data transmission to a display on the drill has enabled them to trim time off difficult grade bores. The St. Helen's job, for example, went quicker than you might think. Chipping away at the volcanic rock was so difficult, the pit itself took the general contractor more than two weeks to dig. Even so, the entire job was completed in just 21 days.
From storm systems and gravity sewer lines to a 1,100-foot shot with a six-inch pipe for jet fuel at the Portland International Airport, Downing Diversified has tackled all kinds of tough grade bores. Each job has its unique challenges, but Kallwick has the same advice for any grade bores.
"We've made a name for ourselves doing one percent and sub one percent grade bores. That's only one inch of vertical play up and down every 10 linear feet that we move forward. It's a very tight tolerance. So, you must have the patience to check and double-check and be very precise. If you have that, then it comes down to using the right equipment and making sure it is calibrated and operating properly. For locating, that means using something accurate and reliable enough for direct walkover locates in deep, difficult conditions. It's vital that your locator is walking and standing right over that head, so you know exactly where it is at that time."
As municipalities, general contractors and others continue to recognize the benefits of directional drilling for grade projects, more of these opportunities are becoming available. When bidding and planning for these jobs, it's important to know that boring on grade at tight tolerances and for long distances is not only possible with walkover locating, it's preferred. You'll be more productive and more successful which, ultimately, is good for the industry as a whole.
About Downing Diversified
The Downing Diversified team has over 30 years' experience in the HDD industry. Jimmy Downing began gaining his extensive knowledge and love of drilling in 1989 when his father purchased the first model drill manufactured by Ditch Witch (one of the first mini rigs to come to the Pacific Northwest). In 2012, he founded his own company, Downing Diversified. The company's specialized equipment and turn-key capabilities have made them a leader in residential, municipal, industrial or commercial installations. For more information, visit downingdiversified.com.
About Subsite® Electronics
Subsite® Electronics, a Charles Machine Works Company, is committed to providing underground construction professionals the most comprehensive suite of electronic products in the industry, including utility locators, Horizontal Directional Drilling (HDD) guidance equipment, utility inspection systems, and equipment machine controls. By utilizing innovative technologies, extensive market feedback and outstanding customer support, Subsite has established itself as the premier source of electronic technology to support the installation, maintenance and inspection of underground pipe and cable. For more information, visit subsite.com.