How Extending Your Tracker's Range Can Cut Your Time On The Job.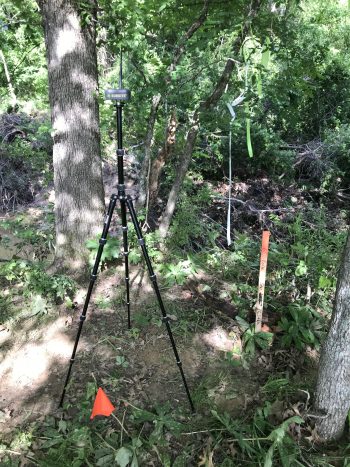 Like any good businessman, Michael Melson knows time is money. The more productive his crew can be on a jobsite, the more profitable that bore will be. That's why he invests in equipment he can rely on, from his drill to his tracking system. But one of the newest tools in his arsenal is a simple accessory that makes a big impact.
"Every minute you're out there is an expense," said Melson, vice president of L&M Construction. "That's why the Repeater is a must-have in your toolbox. It doesn't just extend the range of your tracker when you don't have line-of-sight back to your drill, it saves time and money."
Melson is referring to the TK RECON™ Repeater from Subsite® Electronics. This accessory for the TK RECON HDD Guidance System is designed to extend the telemetry range of your tracker, something that has come in handy for Melson recently.
"We had a 1,032-foot bore, crossing two streams, with 80 to 90 feet of elevation change," he recalled. "Line-of-sight was definitely an issue. Within 30 feet I was in heavy timber. Then, in the stream beds, I was 35 to 40 feet below the drill level and standing in water. There was no way the tracker was going to communicate with the drill."
Melson said he could've used his two-way radios to communicate with the drill operator, but in addition to being a hassle, the start-and-stop nature of communicating with radios would cut into forward progress made by the drill operator.
The ideal situation would be for the drill operator to continue to get accurate, real-time readings from the tracker on his Commander™ 7 display right there at his seat. This would eliminate the additional time it would take for Melson to tell him what he was seeing at the tracker and talk him "round the clock" to get him pointed in the right direction.
"The Repeater solved it all," Melson said. "It sent the tracker signal back to the drill without any issues. It was just like I was standing there in front of the drill within a few hundred feet. It saved a ton of time. Not just with the back-and-forth on the radio, but I would've been walking back through the woods every two or three hours to change out the batteries in my two-way from the constant use."
Melson, who has used the Repeater on several jobs, is quick to point out other benefits as well. For example, he notes many bores that would traditionally be done with a wireline can now be done a simple walkover locate if you have a Repeater—or several Repeaters—on hand (you can link several together to extend your tracker's range even further). According to Melson, the Repeater is easier and cheaper than running a wireline.
"The thing is so simple. One button. Just set it up and let it go. I ran it 12 hours straight without a charge on that job. They say it can go 50."
Company literature states the TK RECON Repeater has a 2,000-foot telemetry range, a portable, freestanding design to simplify in-field use, and the ability to mount to any ¼-20 accessory.
"If you routinely bore more than 500 feet with line-of-sight issues, it's a no-brainer to have a Repeater," Melson said. "If you have line-of-sight issues where you can't get a signal back to the drill machine, just fire up a Repeater and keep drilling. It's the only way to go."
About L&M Construction
L&M construction was founded in 1970 and has been involved in horizontal directional drilling since the late 1980's. The company's owner has logged more than 100,000 hours of HDD seat time and the company has completed more than 2 million feet of directional bores. Over the years, their scope of work has included cross-country fiber optic, oil and gas pipeline, electrical, cable TV, water line, and on-grade sewer installations. L&M prides itself on being a self-contained HDD operation with multiple excavation and material handling options available for more efficient operations.
About Subsite® Electronics
Subsite® Electronics is committed to providing underground construction professionals the most comprehensive suite of electronic products in the industry, including utility locators, Horizontal Directional Drilling (HDD) guidance equipment, utility inspection systems, and equipment machine controls. By utilizing innovative technologies, extensive market feedback and outstanding customer support, Subsite has established itself as the premier source of electronic technology to support the installation, maintenance and inspection of underground pipe and cable. For more information, visit subsite.com.