Making Beacons Better: The Advantage of Repairs.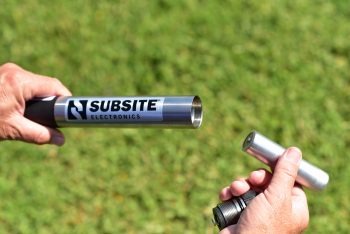 Subsite® Electronics is the only manufacturer in the industry that repairs their beacons (also called sondes). Repairs can be made at the factory or at the local Ditch Witch® dealership, which maximizes uptime for customers and helps keep them productive. Of course, repairing a beacon is a money-saving alternative to buying a new one, but there are other benefits as well. While Subsite customers have long known about the savings they pocket by repairing their beacons, they may not know those repairs are also improving beacon performance for everyone. According to the company, their repair process is also a built-in R&D pipeline for future product enhancements and development.
"We collect valuable usage data on our beacons every time one comes into the factory for repair," says Levi Valdois, Subsite's Product Manager for HDD Guidance. "Customers appreciate the savings and the incredibly quick turnaround times, but what they may not know is that their beacon is providing real-world, in-the-field information that we use to help improve our future products."
The company collects diagnostic data such as the software version, the high temperature at which the beacon has been operating, the number of hours used, and many other valuable data points. These insights give Subsite product engineers a picture of the everyday life of a beacon beyond the design lab and testing grounds. While the data helps technicians troubleshoot for that specific beacon, it's also direct customer input on how future beacons can be improved.
Future Subsite customers aren't the only beneficiaries, though.
"This information is a key ingredient in new beacon designs," Valdois says, "but we also use this data to help customers save money and get more performance out of their current beacons through product updates, performance enhancements, and best-practice recommendations."
One such example is the use of batteries. According to Valdois, the company sees many users relying on common, off-the-shelf loose C-cell batteries to power their beacons. Field data gathered during beacon repair, however, shows that high quality lithium batteries provide a more consistent and reliable power supply downhole, which translates into improved beacon performance.
Software updates are another great example of this constant research and development benefiting current customers. Many data-driven performance enhancements can be added to existing beacons through software updates available at Ditch Witch dealerships worldwide. This gives users the latest improvements without the costs of purchasing a new beacon or the downtime of shipping a beacon back to the manufacturer.
Future beacon technology depends on what is learned today. And it seems one company has discovered a way to put that into practice, pushing innovation and advancing the entire industry. It just happens to also provide customers the more cost-effective option of repairing their beacon versus buying a new one. Apparently, saving some green is easier with Subsite green.
About Subsite® Electronics
Subsite® Electronics is committed to providing underground construction professionals the most comprehensive suite of electronic products in the industry, including utility locators, Horizontal Directional Drilling (HDD) guidance equipment, utility inspection systems, and equipment machine controls. By utilizing innovative technologies, extensive market feedback and outstanding customer support, Subsite has established itself as the premier source of electronic technology to support the installation, maintenance and inspection of underground pipe and cable. For more information, visit subsite.com.